St. Louis Post-Dispatch names Scott Credit Union a winner of the Greater St. Louis Top Workplaces 2023 Award
Chelsea Rogers
EDWARDSVILLE, IL –Scott Credit Union is thrilled to announce that it has been honored with the esteemed Top Workplaces 2023 award by the St. Louis Post-Dispatch. This is the tenth time SCU has received this recognition since 2012. The selection process for this accolade is based entirely on employee feedback gathered through a third-party survey conducted by Energage LLC, a trusted partner specializing in employee engagement technology. The confidential survey evaluated 15 fundamental culture drivers essential to the success of organizations, including alignment, execution, and connection, as well as others.
"Earning a Top Workplaces award is a badge of honor for companies, especially because it comes authentically from their employees," said Eric Rubino, Energage CEO. "That's something to be proud of. In today's market, leaders must ensure they're allowing employees to have a voice and be heard. That's paramount. Top Workplaces do this, and it pays dividends."
Scott Credit Union takes immense pride in fostering an exceptional work environment that prioritizes employee satisfaction, growth, and empowerment. As a recipient of the Greater St. Louis Top Workplaces 2023 award, Scott Credit Union demonstrates its commitment to nurturing a workplace culture that cultivates excellence, collaboration, and a strong sense of belonging among its workforce.
"Receiving the Top Workplaces award is a testament to the incredible culture we have cultivated here at Scott Credit Union," says Frank Padak, President & CEO. "Our success is driven by the dedication, passion, and talent of each and every member of our team. It is their hard work, enthusiasm, and unwavering commitment to excellence that has made this recognition possible."
Scott Credit Union is grateful for its dedicated employees, whose commitment, passion, and invaluable feedback have contributed to this significant recognition. With an unwavering focus on creating an environment where employees can thrive, Scott Credit Union will continue to set new standards for workplace excellence in the St. Louis region.
Scott Credit Union is a full-service financial cooperative. When someone opens an account at the credit union, they become a member and an owner. Because of its structure, Scott Credit Union has given back millions of dollars to members through a bonus dividend and loan interest rebate over the past 15 years.
Scott Credit Union currently has 25 locations; 22 locations in metro St. Louis including: Affton, MO; Ballpark Village in St. Louis, MO; Belleville, IL (two branches); Breese, IL; Collinsville, IL; Columbia, IL; Crestwood, MO; Edwardsville, IL (two branches); Fairview Heights, IL; Ferguson, MO; Highland, IL; Ladue, MO; Lebanon, IL; Mascoutah, IL; O'Fallon, IL; Trenton, IL; Troy, IL; Scott Air Force Base in Illinois; Waterloo, IL; and Wood River, IL; and three branches in the Chicago area in Evergreen Park, IL; Midlothian, IL; and at the Jesse Brown VA Medical Center.
For details on opening accounts at Scott Credit Union, visit www.scu.org.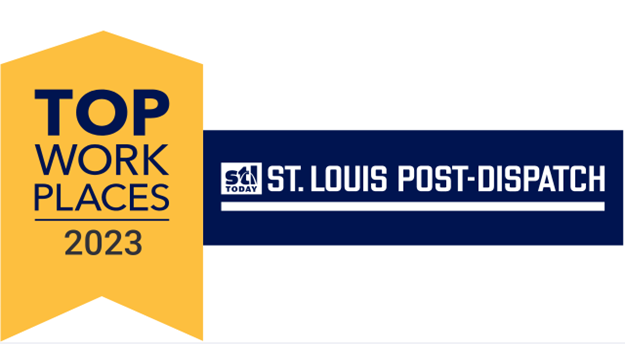 ABOUT ENERGAGE
Making the world a better place to work together.TM
Energage is a purpose-driven company that helps organizations turn employee feedback into useful business intelligence and credible employer recognition through Top Workplaces. Built on 16 years of culture research and the results from 27 million employees surveyed across more than 70,000 organizations,  Energage delivers the most accurate competitive benchmark available. With access to a unique combination of patented analytic tools and expert guidance, Energage customers lead the competition with an engaged workforce and an opportunity to gain recognition for their people-first approach to culture. For more information or to nominate your organization, visit energage.com or topworkplaces.com.