Youth Debit & Youth Savings Account Options
Help your kids grow healthy financial futures with SCU youth account options. At SCU, we're with you - and your kids - for every stage of life.
Youth Debit & Youth Savings Account Options
Teach your kids early about the importance of saving. Just a $5.00 deposit is all it takes to open a Youth Savings Account in the name of a minor. When you open a share account for your child, their money will grow right along with them. Plus, they will learn how saving money can help them achieve their goals.
Kidz Club Savings Account (12 and under)
Make saving fun with a Kidz Club Savings Account through SCU. Youth Savings Accounts earn higher interest rates on the first $1,000 to encourage savings and smart financial decisions.
Earn $2 for every A (or equivalent) on your end-of-semester report card.
Scott Credit Union student members can earn money for great grades each semester.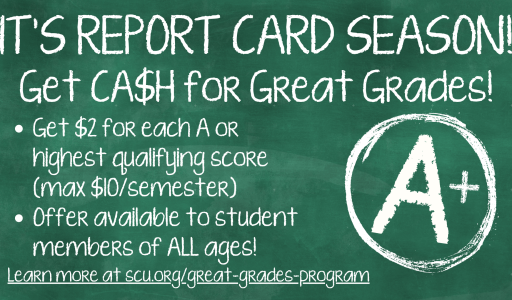 Student Checking Accounts
Encourage your young adult to open a checking account and get started building healthy financial futures as adults. Review our checking account options and choose the one that is your best fit.
---
Fun and Educational Banking Resources