Scott Credit Union Debit Cards
Purchasing power with Visa Debit Cards from SCU
With Scott Credit Union Debit Cards, you have the convenience of making purchases without the hassle of writing checks. It's not a credit card; it's a Visa Debit Card — a much easier way to pay with your checking account, gift card balance, or travel account.
Convenient Payment Options Everywhere You Shop
With Visa® Debit Card at SCU:
You can use the Scott Credit Union Debit Card to make purchases worldwide, anywhere you see the Visa logo. That's more than 13 million retail merchants, including service stations, grocery stores, theaters, ticket outlets, restaurants, florists, and many others.
When you use your card to pay, the amount of your transaction is automatically deducted from your Scott Credit Union checking account. The Visa Debit Card is fast convenient and safe.
The Visa Debit Card also works at 30,000 ATMs nationwide, allowing you to get quick cash, make deposits, check balances and transfer funds.
Scott Credit Union Debit Cards offer the following benefits:
All purchases you make with the card are free of any transaction fees
All transactions at Scott Credit Union ATMs are free
Use your debit card at 5,000 Co-Op ATMs (transaction fee applies)
Pay with your device from Apple, Samsung, or Google Pay
Transactions at non-Scott Credit Union ATMs are subject to a nominal fee and possible surcharge1. Once you start using your Debit Card, you'll wonder how on earth you ever got along without it. Your Visa Debit Card will come with a random-generated PIN (Personal Identification Number). You can stop by any Scott Credit Union office to customize the PIN, if you wish, at no additional cost.
Prevent debit card fraud by following these safety tips
Debit card fraud can happen to almost anyone. While it is difficult to protect yourself completely, we are working hard to make sure that you are protected.
SCU offers the most up-to-date technology to help protect our members' cards and accounts. We currently have several tools in place that are designed to protect you from card fraud. We are also asking for your help to protect your card.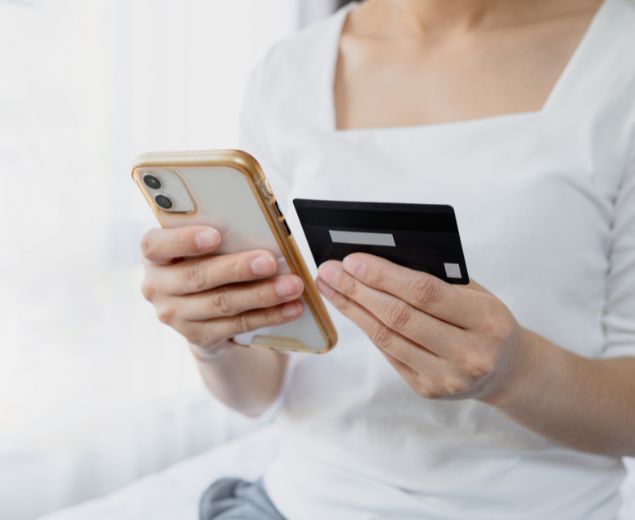 Scott Credit Union debit cards and credit cards offer convenience, and require you to take the following steps to prevent unauthorized use or fraud:
Get into the habit of checking your accounts regularly.
Check every transaction to make sure you recognize it and that it was a transaction you performed.
Contact us if you find any suspicious activity on your account.
If you use your card at an unusual location from your normal activity, your card may be declined. Geographic limitations are often put on cards as a safeguard and more detail can be provided to you if you call and tell us you are traveling outside of the area.
If your card is declined when you perform a signature-based transaction, try running the transaction again using your PIN. The transaction may have been declined as a security precaution restricting transactions with your card.
Sign up for eAlerts in SCU Online that will inform you when transactions occur on your account.
Update your contact information with Scott Credit Union. We are unable to contact you about a suspicious charge unless we have your current phone number.
Copy the customer service phone number from the back of your debit or credit cards and keep this list in a separate location from your purse or wallet.
Avoid using ATMs that appear dirty or in disrepair. These ATMs may be fake machines set up to capture card information.
Do not use ATMs with unusual signage, such as a command to enter your PIN twice to complete a transaction.
Watch out for ATMs that appear to have been altered. If anything on the front of the machine looks crooked, loose or damaged, it could be a sign that someone attached a skimming device.
Avoid using the ATM if suspicious individuals are standing nearby.
Criminals may try to distract you as you use the machine to steal your cash, or watch as you type your PIN.
As you key in your PIN, cover the keypad with your other hand to block anyone, or a camera, from viewing the numbers you type.
For more information on controlling EBT fraud, please call (800) 822-6757 or email moreinfo@fisglobal.com with any questions about your account. Our representatives would be happy to talk with you and to discuss ways we can help you avoid fraud on your debit card.
Purchase a gift card for any occasion
Scott Credit Union offers prepaid credit union debit cards that can be used anywhere Visa is accepted. Visa gift cards come in festive designs suited for holiday, birthday, wedding, or all-occasion gift giving for people of all ages.
Visa debit cards are safer than cash, easy to use, and can be used anywhere Visa debit cards are accepted. Gift cards are available to Scott Credit Union members for a $3.50 fee each. Stop by a Scott Credit Union office near you to purchase your gift cards today.
SCU Reloadable Debit Cards
Purchase prepaid EMV® Reloadable Debit Cards at select Scott Credit Union branches.
These prepaid reloadable debit cards are fully equipped with chip-card technology (also known as EMV®), as well as, magnetic stripe, and signature capabilities common to traditional Scott Credit Union debit cards. Prepaid reloadable debit cards are safer than cash and more flexible than traveler's checks. They are also accepted at millions of retailers worldwide. It's the smart way for you to travel.
EMV® Reloadable Debit Card's Key Features & Benefits:
Cards are accepted worldwide at merchants with chip readers or magnetic stripe terminals.
Cards are accepted worldwide at ATMs with chip readers and magnetic stripe readers.
Cards are reloadable through a self-serve website or in any Scott Credit Union Branch1.
Low $10.00 fee per card issued.
EMV® Reloadable Debit Cards are available at the following Scott Credit Union branches:
Collinsville
Crestwood
East Belleville
West Belleville
Fairview Heights
Ladue
O'Fallon
Scott Air Force Base
Edwardsville Home Office
1There is a $1.00 fee taken from the card for each reload, whether through the website or in a branch. Cards may only be reloaded twice per day. If the card is reloaded through the self-serve website funds will be available in 3-5 days. If reloaded at a branch location, funds will be available after the next load time. Load times are 5 a.m., 8 a.m., 11 a.m., 2 p.m., 5 p.m., 8 p.m. and 10 p.m. EST.