SCU Personal Checking Accounts
Credit union bank account solutions with no monthly fees
Your SCU Checking Account
CREDIT UNION RATES, BENEFITS, AND DEBIT CARD CONVENIENCE
Your checking account is the center of your financial life. That's why Scott Credit Union bank accounts with no monthly fees are the perfect checking account solution, so you can save money while avoiding the bank fees.
No bank catches. No kidding.
Take a look at the accounts we offer, choose the ones that are right for you, and select your optimal checking account. Credit union checking accounts include Visa debit card access and easy online and mobile banking access, so you can use and manage your account anytime, anywhere.
| | eXtreme Checking | Student Checking | Regular Checking |
| --- | --- | --- | --- |
| Maximum Interest Earned (when requirements are met) | 0.55% APY1 on balances up to $25,000 | No Interest Earned | No Interest Earned |
| Maximum Interest Earned on balances over $25,000 (when requirements are met) | 0.05% APY1 | No Interest Earned | No Interest Earned |
| Interest Earned (when requirements are not met) | 0.01% APY1 | No Interest Earned | No Interest Earned |
| No Monthly Service Fee | ✔ | ✔ | ✔ |
| No Minimum Balance | ✔ | ✔ | ✔ |
| Accessible through SCU Online and SCU Mobile | ✔ | ✔ | ✔ |
| Free Online Bill Pay | ✔ | ✔ | ✔ |
| eAlerts & eStatements | ✔ | ✔ | ✔ |
| Free Mobile Deposit | ✔ | ✔ | ✔ |
| Overdraft Protection | ✔ | ✔ | ✔ |
| Compatabile with Apple, Samsung or Google Pay | ✔ | ✔ | ✔ |
| Blues Card Creative (Optional) | ✔ | ✔ | ✔ |
| Blues Checks (Optional) | ✔ | | ✔ |
We may change the interest rate at any time after the account is opened.

1 APY=Annual Percentage Yield
Our eXtreme Checking Account gives you the ability to have a checking account with no monthly fee plus earn interest when the minimum requirements are met! Earn APY on your eXtreme Checking balances up to $25,000 when you meet these simple requirements:
Sign up to receive eStatements instead of paper statements.
Have 12 debit card transactions posted and cleared by the end of the last business day each month.
Even if you don't meet the minimum requirements, your eXtreme Checking account will still function with no monthly fee and pays APY. View current Scott Credit Union interest rates.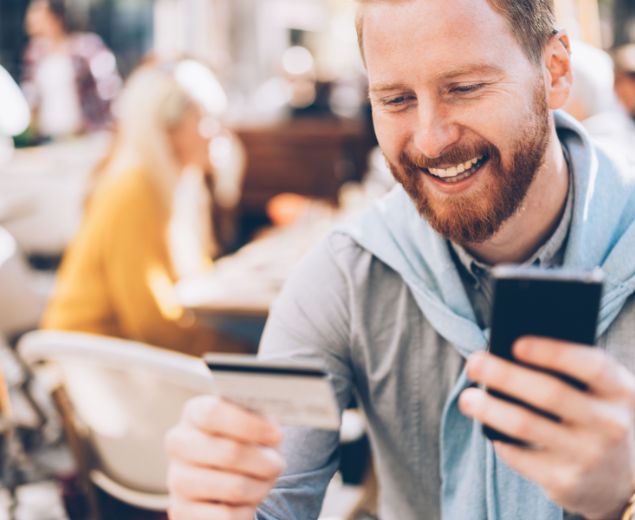 A Scott Credit Union Student Debit Checking Account is a great way for young adults to build healthy financial futures. Designed with teens and young adults in mind, our student accounts offer a hassle-free banking experience without the need for a traditional checkbook. Exclusively available for ages 13-22, young members are able to take control of their finances while ensuring parental peace of mind. For those under 18, parents or guardians can be joint account holders and benefit from online account monitoring and fund transfer capabilities.
Why open a student debit checking account at SCU? Here are just a few of the perks:
No checks to keep track of
Text alerts for low balance ($50 and $10)
NO minimum balance or monthly fee
Leave with a debit card in hand when you open the account at any SCU location
You'll automatically be enrolled in our Great Grades Program. Get $2 for every A or equivalent on your end-of-semester report card!
A Regular Checking account at Scott Credit Union offers a secure and convenient banking experience. This free checking account allows you to manage your money, monitor spending, and access your funds anywhere and anytime. you'll also enjoy peace of mind with no minimum balance requirements, monthly fees, and overdraft protection. Additional features:
Free Online bill pay
Blues card and check options
eAlerts & eStatements
Free Mobile Deposit
Overdraft Protection
Compatible with Apple, Samsung or Google Pay
St. Louis Blues Checking Terms
Show your love for the Blues and get a Blues branded debit card with any of our checking accounts – for free!
All you have to do is choose the checking account that works best for you. When prompted, just check "yes" that you would like St. Louis Blues branding on your debit card. It's that simple to have an account that screams, "Let's Go Blues!"
Protect Yourself from Overdraft with SCU Ready Reserve
Scott Credit Union's Ready Reserve Account is a line of credit that provides a flexible cash reserve to members over the age of 18. But most important of all, it can help you avoid the potential embarrassment of a returned check and costly overdraft charges.
The Ready Reserve Account is a simple-interest loan, and there is no set-up charge. All loan advances are activated in $100 increments. The interest accrues on a daily basis, and is charged on the exact amount of cash used for the length of time you need it.
Take advantage of the easy repayment plan. The amount you owe will be automatically deducted from your SCU checking account on the statement cycle date each month. Or, you can make payments directly at the teller line. To apply today, click the link below.  Choose "Personal Loan" then select the "Ready Reserve Overdraft Protection" option to complete the application.
WITH SCU VISA® DEBIT CARDS
With Scott Credit Union's Visa Debit Card, you have the convenience of making purchases without the hassle of writing checks. It's NOT a credit card. It's our debit card — a much easier way to use your checking account. Open an account and get your Visa Debit Card today. You can use it anywhere you see a Visa logo. Plus, use it at ATMs to get cash and access your account balance. Transactions at non-Scott Credit Union ATMs may incur fees and surcharges.
Your Visa Debit Card will come with a randomly generated PIN (Personal Identification Number). Follow the instructions with your card to activate it. You can stop by any Scott Credit Union office to customize your PIN for free.
WHEN USING YOUR VISA DEBIT CARD AT A NON-SCU ATM
When you use another financial institution's ATM, it is important to make sure your transaction is complete before you drive or walk away.
Many ATMs will show a message after you have taken your money and receipt that says "Would you like to make another transaction?" If you fail to press "No" and the next person uses the ATM right away, the ATM still thinks it is in your session. When the next person enters their PIN, the machine is still looking for your PIN.
The person using the ATM after you will not be able to access your accounts, but this can cause your card to be locked because the ATM thinks an invalid PIN has been entered.
So, please remember to answer "No" if the ATM screen asks you if you would like to perform another transaction. Then, verify that the ATM returns to its welcome screen to confirm that your transaction is complete.
PREVENT AND REPORT DEBIT CARD FRAUD
Debit card fraud can happen to almost anyone. While it is difficult to protect yourself completely, we are working hard to make sure that you are protected.
SCU offers the most up-to-date technology to help protect our members' cards and their accounts.
As a card user, there are also steps you can take to prevent fraud. First, get into the habit of checking your accounts regularly. You should check every transaction to make sure you recognize it and that it was a transaction you performed. It is important that you don't just look at large transactions. Some fraudsters will target small amounts across a number of accounts. It is also very important that you contact us if you find any suspicious activity on your account. You will not be held accountable for fraudulent charges on your account.
To report your Visa Debit Card lost or stolen, or to report fraudulent activity, call (800) 543-5073.
ADDITIONAL TIPS FOR PROTECTING YOUR CREDIT AND DEBIT CARDS
If you use your card at an unusual location from your normal activity, your card may be declined. Geographic limitations are often put on cards as a safeguard and more detail can be provided to you if you call and tell us you are traveling outside of the area.
If your card is declined when you perform a signature-based transaction, try running the transaction again using your PIN. The transaction may have been declined as a security precaution restricting transactions with your card.
Sign up for eAlerts in SCU Online that will inform you when transactions occur on your account.
Update your contact information with Scott Credit Union. We are unable to contact you about a suspicious charge unless we have your current phone number.
Copy the customer service phone number from the back of your debit or credit cards and keep this list in a separate location from your purse or wallet.
Avoid using ATMs that appear dirty or in disrepair. These ATMs may be fake machines set up to capture card information.
Do not use ATMs with unusual signage, such as a command to enter your PIN twice to complete a transaction.
Watch out for ATMs that appear to have been altered. If anything on the front of the machine looks crooked, loose or damaged, it could be a sign that someone attached a skimming device.
Avoid using the ATM if suspicious individuals are standing nearby.
Criminals may try to distract you as you use the machine to steal your cash, or watch as you type your PIN.
As you key in your PIN, cover the keypad with your other hand to block anyone, or a camera, from viewing the numbers you type.
As always, we welcome you to contact our Member Service Center at (618) 345-1000 with any questions about your account. Our representatives would be happy to talk with you and to discuss ways we can help you avoid fraud on your debit card.